12.09.2012 - 12.09.2012
View Teenie Travels Around the World on chschen's travel map.
It must be late--I can barely keep my eyes open--and yet Chris tells me it's only 7 pm. We walked to Charco Verde today and hiked around the surrounding "bosque seco," which once again reminded us of California--perhaps the eucalyptus grove at Land's End on a hot October afternoon. The hike was more of a stroll. We rested frequently on the benches and kept up a contemplative conversation throughout. We didn't see any monkeys and spotted only a few birds, but the lizards were plentiful, rustling the desiccated leaves as they skittered off the path.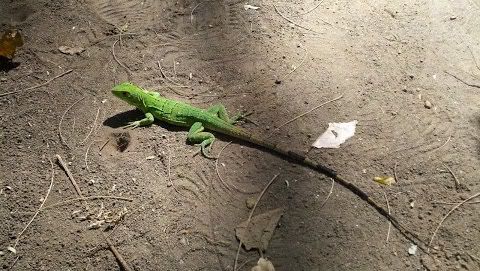 There is only one comedor in San Jose del Sur. We eat there every evening, ordering three plates of food because we still want to eat more after two. By the time the third plate comes we realize we're full, but we devour it anyway. A mud-streaked puppy plays at our feet.
I noticed the men drinking at the comedor stare at me this afternoon and, as Chris was gone to get my painkillers, I had a difficult time pretending not to see them. I suppose I was a novelty. I let a small smile loose on my lips so as not to seem unfriendly, but I didn't make eye contact. I thought the woman from a gringo couple in the corner was trying to catch my eye and smile, but I wasn't sure why so I returned only an uncertain look. In Leon we spotted a man trying to casually take our photo. We laughed and posed for him, but it is easier when they just ask. Still, I should be grateful they still want to see us. The tourists haven't overrun Nicaragua yet, but Patrick says in Costa Rica the locals are indifferent to, maybe even wary of, foreigners now. But I suspect we will be strange for quite a while longer for I can't imagine Chinese tourists finding their way here any time soon.
We were not a gringo group today as we were yesterday. All the travelers have scattered, and even Andrew made himself scarce tonight. It is strange to always meet people and start something that will never continue. Is traveling then just an endless series of beginnings?