12.17.2012 - 12.17.2012
View Teenie Travels Around the World on chschen's travel map.
At the lake I cut his hair. I couldn't stop laughing at first because I was making a mess of it, but then I made myself calm down so I wouldn't end up snipping his scalp or my finger. I think we were both mildly excited. Chris kept taking pictures wherein I was alternately scowling and giggling. Meanwhile tuft after tuft of hair floated down, covering his back in a bear-like fur.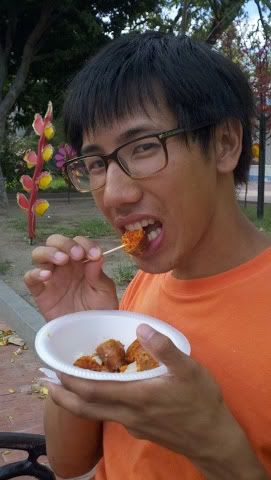 We were still going on about the haircut on our walk back up the crater when the three men with machetes overtook us. I remember a little flame of impatience flicker in me at the interruption, and then when the machetes were pointed at us and the men told us to hand over the bag, I thought, "Oh no, so this is happening," except not in words. Later on I was interested to observe that I felt no surprise at the moment. It was as if we had been stopped for a routine check. I even had the presence of mind to plead for the "llave de hostal," which would have been worthless to them. Chris added, "in the pequeño pocket." But the mugger shook his head no, almost afraid. They did just seem afraid more than anything else, as if they wanted no part in this either, but we had to go by them blithely with our backpack, and so they were obliged to...etc.
It was only when they left and we continued on our way that I heard my heart thundering in my ears. I told it (a bit contemptuously) to quiet down, and it did. Ou walk home was full of sighs and resignation. They left us our half gallon of water, which we dutifully carried home. They left us the dirty tissues in our pockets, too (not without checking first). I couldn't remember their faces, only flashes of red clothing, the impression of youth, the rusty, dull machetes. At the police station Chris was the only one who could provide any sort of physical description. I was surprised to learn that the one I should have gotten the best look at--I asked him for my key--had a mohawk I didn't notice. Another one was older with a round face, according to Chris, but I remember only a shape of a man, blurred or darkened as if at the edge of an image taken by a pinhole camera. We looked through hundreds of photos but did not spot our guys--or rather Chris did not because my mind was a blank. How silly I was, how useless.
But not so much was taken, after all. In a little while this will only be another story to tell. Maybe it already has become that.